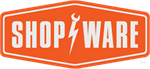 Shop-Ware
Contact: Roxanne Doche
Phone: (949) 945-4310
Shop-Ware delivers professional-grade innovation to independent automotive service providers. We are the industry's premier enterprise-grade SaaS platform for shop management, and we are committed to developing sophisticated tools to help the automotive aftermarket thrive and grow. 
Industry-first features include: fully digital, cloud-based repair orders with native vehicle inspections, rich media, and customer live chat; realtime shop workflow and "Expeditor" dispatch; realtime parts allocation tracking for each job in progress; parts gross-profit "Optimizer" that automatically seeks and attains your parts GP target; native advanced analytics across unlimited repair facilities, and much more.
Contact Shop-Ware
Fill out the form below and one of the team members from Shop-Ware will contact you as soon as possible.