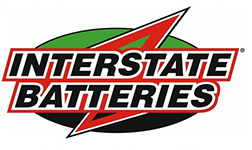 Interstate Battery
Contact: Kevin Marks
Phone: (425) 743-7677
Coffee & Tea Sponsor

About us
Our story started in 1979 when two brothers started an Interstate Battery Distributorship in Western Washington. The fledgling company had its warehouse in a garage and its accounting office was in one of their kitchens. Their father was pressed into service to help with deliveries and offer much needed paternal advice. The business rapidly outgrew the Allen's garage and kitchen because the boy's knew that truly believing in and delivering great customer service was the key to success and the key to feeling good about the job they did each day. This service, and the long hours and work ethic that it required, built a business that became the #1 Interstate Battery Distributorship in North America. They are still at the helm of All Battery Sales and Service today. The company has now grown to serve all of Northwest Washington State and has a workforce of over 100 enthusiastic people. The values that the brothers started the company with in 1979 are still the bedrock of our belief in making a difference to our customers.
Contact Interstate Battery
Fill out the form below and one of the team members from Interstate Battery will contact you as soon as possible.