Instructor Biography - Pamela Oakes
About the Instructor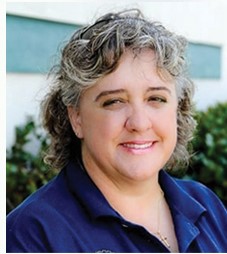 East Detroit native Pam Oakes has been in the automotive industry for most of her life. But it almost
didn't start out that way for the fourth-generation technician. Her great-grandfather, Leonard Smith,
was following his family's footsteps in law enforcement and was walking the beat in Detroit. Along came
the 18th Amendment and, subsequently, prohibition. His wife, Grace, wanted him off the streets as
"rum-runners" were trekking from Windsor to Chicago. The family decision was made to have him leave
the force and go automotive. That was in 1917 (Detroit Free-Press column Automotive World, Ed
Spooner). 
From there he would refine his talents at Detroit Truck, Standard Truck and Hupmobile. He opened his
own repair and machine shop in the late 1920s on the east side…and ended up repairing cars and trucks
of the "rum-runners" his wife fretted about, years earlier. When asked about it, all he would say was
you fixed the vehicles and got them out of there; saying the worst of the groups that would come in for
repair was the Purple Gang. He would tell us, basically: "You had the reputation that you fixed them
right the first time. They came in. They drank and played cards while you repaired the cars and trucks."
He closed the shop at the start of World War 2. He -- like thousands of others, including my grandfather
-- worked in the factories assembling tanks and aircraft. By the time it was over, over there he was too
old to restart the shop. He finished out his automotive career at the Jefferson Avenue plant.
Fast-forward to the 1960s.

The 1969 Plymouth B-Body Road Runner* – the last car purchased by her great-grandfather which
would become Pam's first vehicle in the late 1970s -- was built at the plant that he worked for post-
WW2. Having a muscle car in the fleet wasn't unusual. It was the 1960s. The Muscle Car era. An exciting
time to immerse yourself all automotive. And this multigenerational automotive family was no
exception. Tempests, GTOs, Catalinas, Monte Carlos, Camaros, Road Runners and Chargers were the
main staples in their garages. Pam was hooked.
Pam drove the Plymouth through her high school, college (degrees in English and electronic engineering
technology) days, taking the heirloom to weekend car shows and rod-runs. A stint in the print and
broadcast media for more than a decade, she still repaired vehicles as a side occupation. Experiencing
one-too-many changes within the media – stories based more-and-more on sensationalism – she left
the fourth estate and joined her father at an independently owned garage in Fort Myers, Florida. After
18 months, she felt the ownership was missing many consumer satisfaction campaigns, repairs, and
customer service opportunities. It was time to start her own shop. And Pam did.

She started Pam's Motor City Automotive and Tires in 1995, in a rented seven-bay shop; sole employee.
With a business plan and a $40,000 SBA loan, Pam turned wrenches, was the service advisor,
bookkeeper, and advertising specialist for the fledgling independent repair center. And after a few
months, she hired a maintenance technician, then another technician. And another. Then, after a year,
she hired her dad for the tire manager's spot.

After four years, Pam reinvested in the business. She bought a parcel of land about two miles from the
existing facility and built a 12-bay shop to now house the 15-employee staff. The shop was successful
and was the recipient of accolades, including: 17, "Best Auto Repair" in southwest Florida, two national
awards (Tire Review and MotorAge "Top-10 Repair Facility") and a host of other local awards, national
awards for consumer educational books, broadcast media spots. But she did have a plan going in and
time was running out. At 20-years, it was scripted to sell the shop. Pam did. The auto center was sold in
the beginning of 2015, and still operates today.

But she wasn't quite ready to retire. The first six months were filled with speaking engagements. At one
of those events, Delphi Technologies reached out and asked Pam if she would be interested in training.
The rest is history. Pam not only trains for Delphi Technologies – and other automotive companies on
contract – but she has developed in other automotive avenues.

Under her own business, DIY Motor City LLC, she:

 Aids (volunteers) the mom-and-pop shops in peril of losing their business and guides them back
on track, including using one of her publications: "Watching Your Pennies and the Dollars Will
Follow: KPI Basics."
 Automotive technical training for corporate fleets
 Class 8 technical training for corporate fleets
 Automotive technical training for various, international parts companies
 Sensor applications/engineering design for Tier 1 OEM (supplier side/PM)
 Automotive patent holder, w/two pending
 Expert witness in legal proceedings
 Training specialist, organizing training programs (light truck/car to HD truck) for municipal and
private companies (up to 11,000-plus technicians, in one case)
 Emergency Vehicle technician (EVT), certification
 EPA 609 trainer/test proctor
 Automotive/HD Truck technical course development
 Writes for Motor Magazine (various) and Tire Business (for ADAS-related items)
 Involved in advanced driver assist systems (ADAS); one of the first in the US to pass the ASE-L4
exam
 SME for various, international companies "on call"
 Teaches ASE-G1 prep for Goodwill industries (since 2015)
"I just love the industry. It's that simple. Everyday there is something new and I cannot wait to see how
it's going to compliment what was developed the day beforehand," Pam said. "Then, I want to take that
information and pass it along to the next generation of technicians. That's how it should work."
For fun, Pam enjoys golf, various sports, travel and just "hanging-out" with her fiancé of 25-years, Peter
Sudak, along with their son, George the Great Dane. He's their sixth rescue. Oh, yes. She still enjoys
"turning wrenches" for fun, these days.

*Pam has the vehicle, today.
produced by

2022 Keynote Speakers