Instructor Biography - Cameron Conover
About the Instructor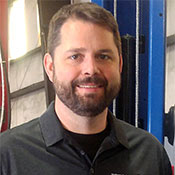 Professional Background


Shop Foreman


Training Instructor


VW/Audi Independent Technician


Guilford Technical Community College Automotive Advisory Committee


Professional Race Team Crew Chief VW/Audi/Lamborghini


Certifications


ASE Master


Associate of Science in Automotive Technology


Bachelor of Science-Greensboro College


Sports Car Club of America Full Competition License


FCC Amateur Radio Extra Class License AJ4TW


Professional Accomplishments
Cameron started his automotive career as an ASE Certified parts specialist while finishing up his Bachelor's degree. After completing college, Cameron felt the pull of the garage, and started working as a tech at an independent VW shop. Out of a desire to learn more and improve his technical abilities, he decided to complete the Automotive Technology program at Guilford Technical Community College.
It was during this time that he became involved with SCCA road racing and built his first race car, a 1993 VW Golf for the SCCA Improved Touring class. Cameron's career carried him from there into working in an independent Porsche/VW/Audi shop, where he got involved with professional road racing. Cameron built and campaigned as crew chief several VW models in Pirelli World Challenge Touring Car. Cameron led his team to "Crew of the Year" and driver to "Rookie of the Year" during the 2011 Pirelli World Challenge season. Since then Cameron went on to work with professional racing teams in IMSA categories such as Lamborghini Super Trofeo, Audi GTD, and LMP2.
Cameron now owns his own shop which focuses on VW/Audi Service, Racing Preparation, and Automotive diagnostics and electronics. Cameron enjoys automotive instruction and is inspired by the owners and technicians who he gets to meet that have a great passion for the industry.
produced by

2022 Keynote Speakers